Norway's best AS is owned by Norway's Best Group AS. Norway's Best Group AS, together with the rest of the Flåm cluster, had a pro forma turnover of more than NOK 1 billion in 2019, more than 500 full-time and part-time employees and more than 1.7 million guests.
Norway's Best Group AS owns Myrkdalen Fjellandsby 100%, 50% of Flåmsbana and 50% of The Fjords. In addition, the company owns and operates four hotels, 14 restaurants, two bakeries, a real estate development with 1,800 units and 26,000 sqm of commercial space. All marketing, sales and facilitation takes place through the wholly owned subsidiary company Norway's best AS.
Myrkdalen Fjellandsby is the largest ski resort in Western Norway, and has been in rapid development since 2000 with a real estate reserve of 1,800 units.
Today, the ski resort consists of nine lifts and over 20 slopes, a hotel, apartments, nine restaurants, a sports shop and ski rental. The real estate company develops and sells 80-100 units annually.
Below you will find information about ownership, the board, management team, sustainability, history and financial information. For an overview of recent news, please visit our media site
Ownership
Norway's Best Group AS is owned by SIVA Eiendom Holding AS (36.5%), Aurland Eige AS (30.8%), Sogn Sparebank (9.7%) and Schage Eiendom AS (23.0%). The operation is organized as follows: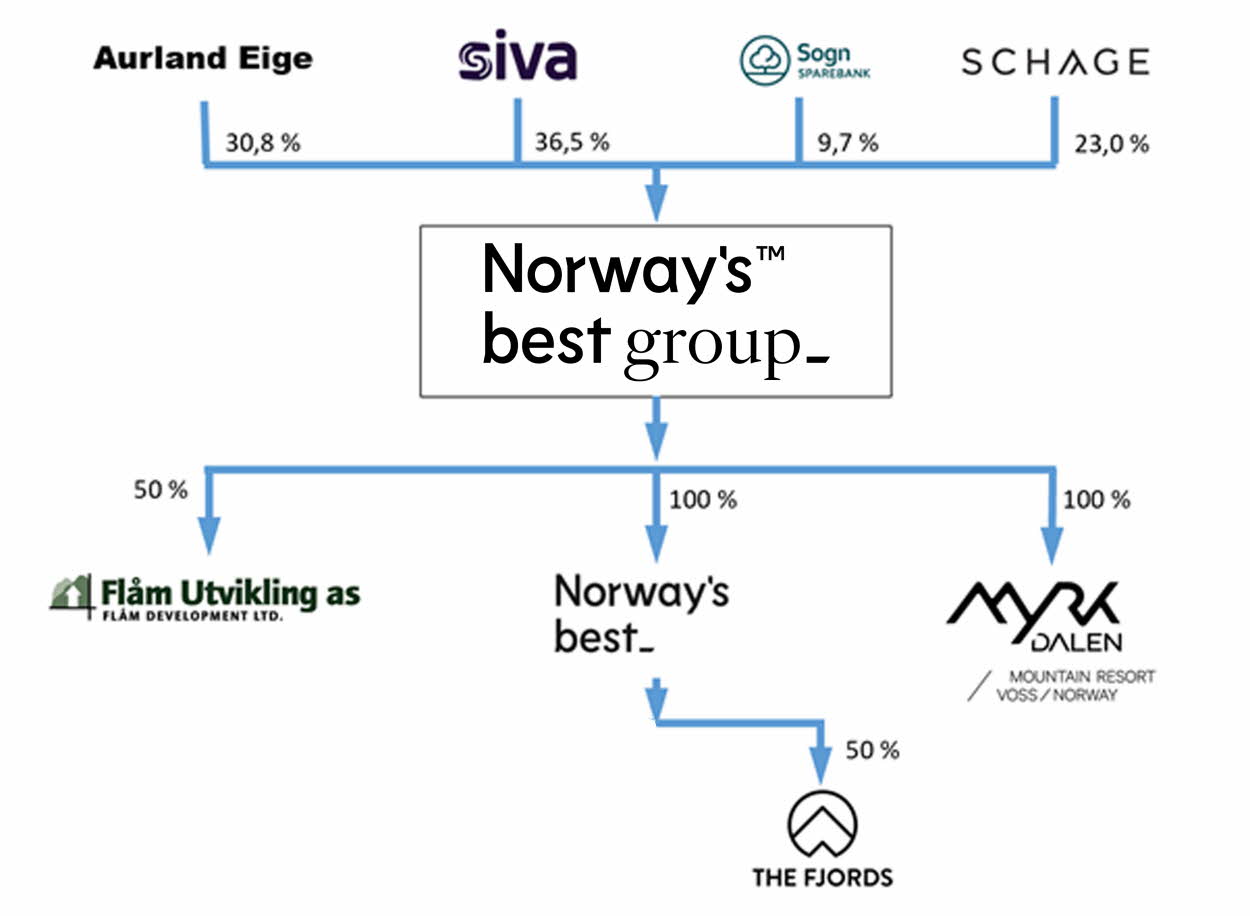 Management Team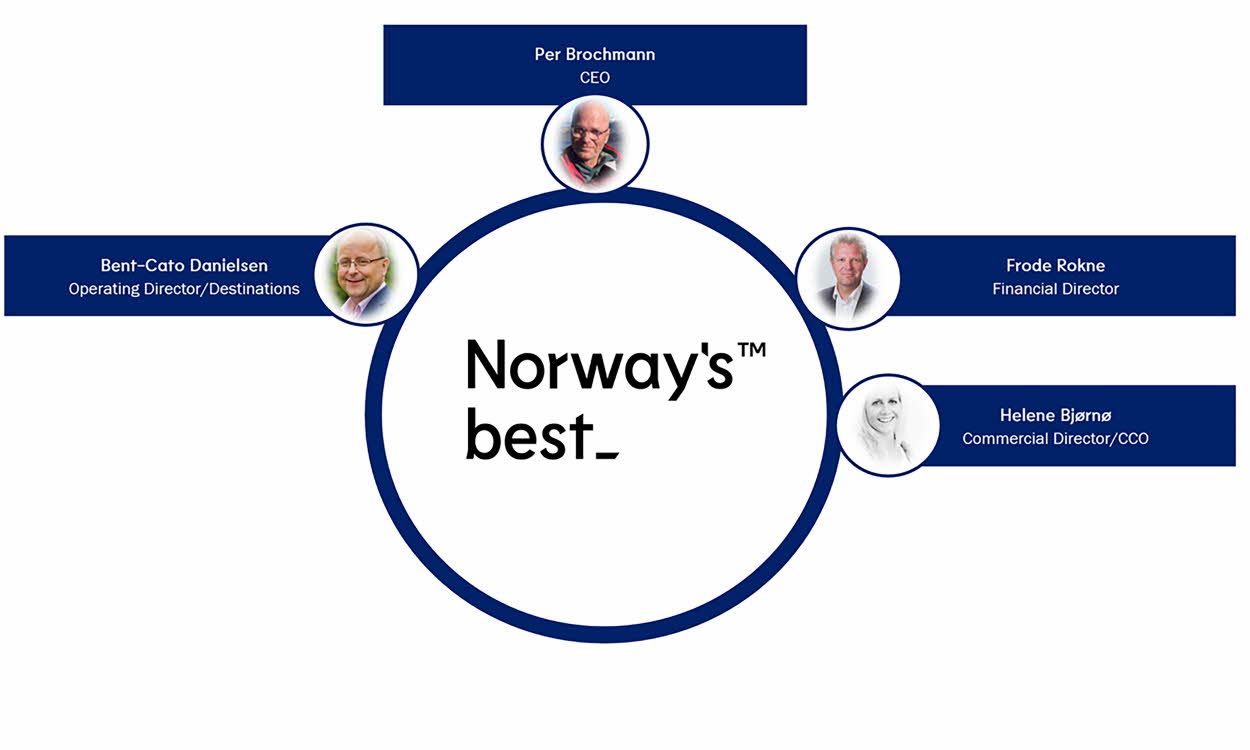 Board of Directors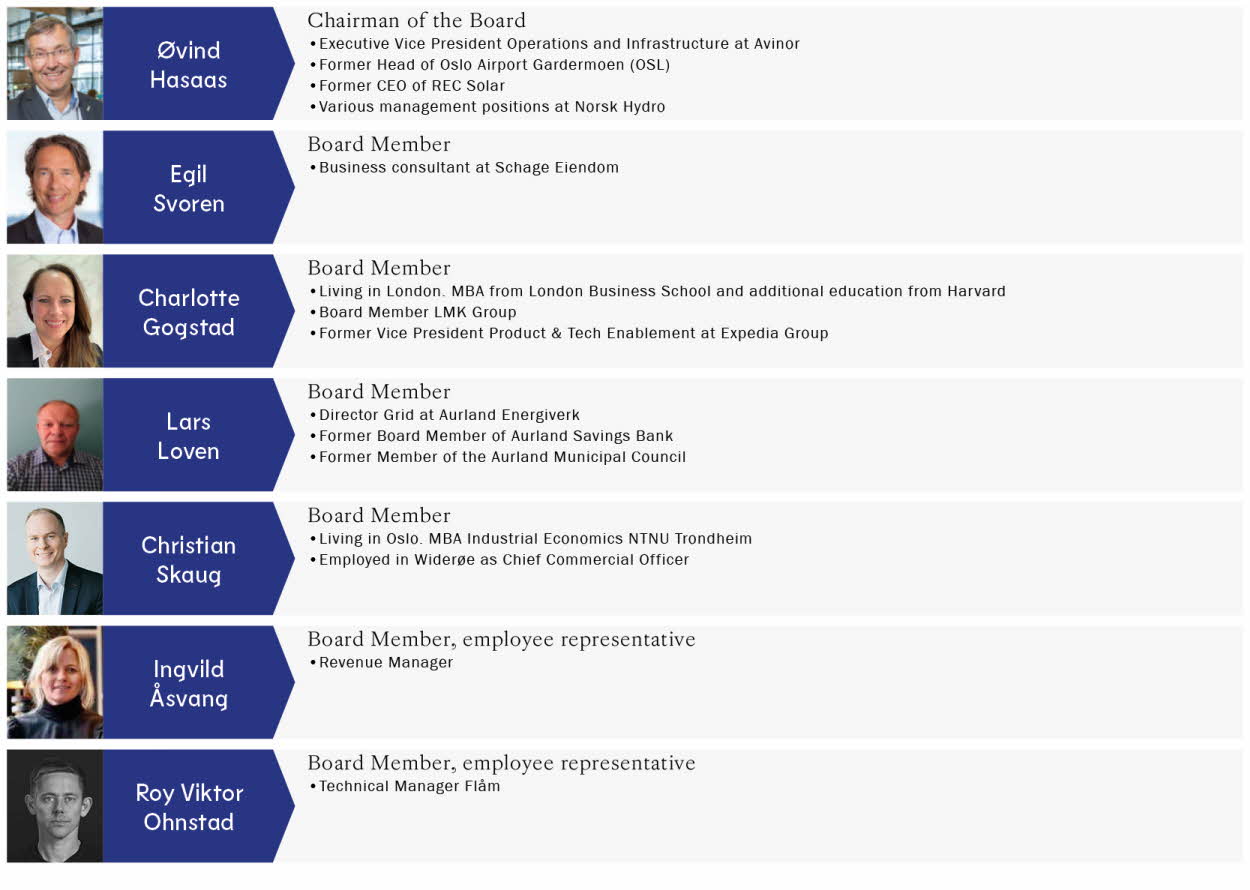 History
Norway's Best Group AS and the wholly owned subsidiary Norway's best AS (formerly Flåm AS) have, together with alliance partners in partly owned companies, contributed to the development of world-class destinations.
When operations started in 1997, developments had been negative for a long period of time both for Flåmsbana and for tourism in the region. Through customer orientation, a look at the region's potential and significant investments, Flåmsbana is now positioned as a tourist railway and Flåm as an attractive destination in the international tourism market. The development in Flåm is something the rest of the Norwegian tourism industry draws inspiration from.
In 2019, well over a million tourists visited Flåm, from more than 170 different countries. That same year, Flåm was named the world's seventh most popular cruise port, and No. 1 in Scandinavia. Thanks to the Flåm model, cruise guests spend large sums locally. Tourism turnover in Flåm has grown from NOK 80 million in 1998 and is approaching NOK 1 billion today. Seven of the ten largest companies in Aurland municipality are linked to tourism. The impressive growth Flåm has experienced in number of employees and relocation has contributed to the population in Aurland municipality growing.
Myrkdalen Fjellandsby
Schage Eiendom was one of the initiators of the establishment of Myrkdalen Fjellandsby AS in the late 1990s and has since been the main owner. Since then, approximately 600 holiday homes, hotels, shops, four restaurants, two chairlifts and six ski lifts have been built, representing a total investment of approximately NOK 3 billion. Myrkdalen has annual sales of more than NOK 250 million, of which more than half is from property development. The company employs up to 200 people and is the largest private employer in Voss herad.
In April 2020, Norway's Best Group AS and Myrkdalen Fjellandsby merged. The merged company is one of Norway's largest tourism operators, with an annual turnover of NOK 1 billion for all associated companies, 500 full-time and part-time employees and more than 1.7 million guests a year. The company plans to grow further after the corona crisis.
The merger was a perfect combination. Flåm is one of the world's most popular destinations, with Flåmsbana and the beautiful Nærøyfjord as the main attractions. Flåm has the most visitors during the summer season. Myrkdalen is a popular winter destination, with a clear development strategy within the active full-year segment
The future
We are building business in the districts and see a significant potential in the Norwegian tourism industry, but also a great need for professionalisation and sustainable organization. An initiative that includes quality destinations and products throughout Norway is a natural next step.
Increased international distribution power and a clearer national position will increase traffic to all the selected destinations. Norway's best will become a strong and leading Norwegian brand in the international tourism market, known for its strong product portfolio of spectacular nature-based experiences.
Sustainability
Vision Zero Emissions
The climate challenges are global and tourism as an industry must also take its responsibility for sustainable development. Customers' preferences are changing, with more and more travelers choosing their destinations based on climate footprint.
Our sustainability strategy is based on the UN Sustainable Development Goals. The company reviews all business areas and prepares action plans for these that build on the strategy of developing zero-emission destinations.
To date, our climate-friendly footprint is characterized by:
Renewable energy on Flåmsbana and Arctic Train
3 electric vessels for fjord sightseeing with adjacent infrastructure
Powerdock - floating jetty with battery pack and reception of sewage / greywater
40 EV charging stations in the Fretheim Hotell car park
Fretheim Hotel and Myrkdalen Hotel are environmentally certified
Cooperation with bus operator for electric buses
Cooperation with the Aurland Harbour Authority for the establishment of Onshore Power Supply for Cruise Vessels


Partnerships
Norway's best AS collaborates with various organizations in its sustainability work. Locally, Aurland municipality, the Aurland Harbour Authority and Visit Sognefjord are important partners. In addition, the company has also entered into partnerships with national players. The most important are:
DNV GL - Partner related to the implementation of a quality system to follow up and measure our sustainability work.
Bellona - Partner in developing the company's sustainability strategy. Important player in the dialogue with the professional community and politicians with a view to sustainable development, especially related to the cruise industry. Bellona also has a central role in our initiatives together with the harbour authority, cruise operators, municipalities and local businesses to create a common sustainable development.
Cruise
Norway's best AS collaborates closely with the Aurland Harbour Authority to look at consequences and measures, as well as work for an environmentally friendly cruise policy in Flåm.